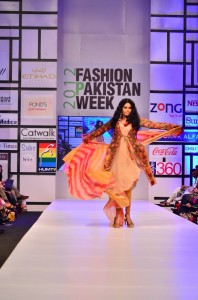 This past week has been sort of a mixed bag for me. First of all Showcase was held in Karachi and Pak tea house collaborated to bring live tweeting from it via cover it live. It was a short event and went off well but i was unable to attend unfortunately due to the situation in the city.
I did however attend the fashion week held soon after or at least two days of it. Being a fashion bystander with a background in textiles does give me some insight into fabric but I will not pretend to know much about what was on display and analyze it. I will not do that because I really didn't understand some of what was on display anyways as it featured a mixture of western styling and over the top antics to try to create as much hype as possible.
I do however recognize quality when I see it and it was pretty damn obvious in Bunto kazmis line as each piece seemed quite lovingly crafted. These kind of pieces even a layman can tell are one of a kind each. Equally impressive were maheen khans collection for her chic fabrics, sanam chaudrys colors and cut and shehla chatoors styling. This event was quite important social media wise as well because we at pak tea house not only collaborated to report on it but in my opinion carried off quite a remarkable feat with live tweeting, as we had about 6 featured tweeters per day, scoops on video from back stage and hidef pics of the days collections uploaded every night "BEFORE" any newspaper or magazine could publish them. Which meant that quite frankly mainstream media was playing catch up to us in this entire event rather than how it used to be in the past with bloggers writing on info gleaned from news stories. 4700 tweets from these live tweeters over 4 days of fashion week along with pics are ample proof of  the fact that some of the best live bloggers are the ones not featured extensively in our community till yet as they were here .
@fursid @samramuslim @Sidra_Rizvi  @Umairmirza @abdullasyed @shobz @CinnamonCurls
@faizanlakhani @Hinasafi  @Sidra_Rizvi you did create history.
Obviously none of this would have been possible without the tremendous facilities given to us by the events organizers, the seating in third row, the press passes and the ability to write what we damn pleased. So Kudos to Etihad, Maheen Khan, Deepak and the other organizers & sponsers for embracing social media in this open hearted a manner. Perhaps this is why the events live stream on twitter and via video feed reached many people at home and created an enormous buzz.
There were however some areas which were imo severely lacking in an event of this magnitude.
First of all the PR.  I do understand that it gets very tough for an agency to handle invites when the venue and the date keep on changing but if there were to be new lows in organization in an events pr they were achieved here. The helpless agency did not have invites ready till 9 pm the day before the event took place and on top of it wanted everyone from the social media community to come pick them up. We do think that this is ok with other media outlets as they have gazillions of staff boys on bikes to stand all attention while invites are printed? But in our realm such tortoise like inefficiency is usually called what it just was, invite us by email attachment next time pls, we don't have the time to wait on you!
Secondly it is very important to know that while video live streaming seems all kool and good to announce onstage, it is a difficult thing to handle. Turning it on an hour before the event starts and that too with audio so the whole world can realize what stage and light boys are subjected to "verbally" is not exactly good publicity for the fashion industry in Pakistan.
Thirdly the delays and the rush inside did not make this event any more inviting even though it had such effort put into its decor and arrangment.  I myself saw ushers selling passes which I considered invite only on the day of the finale. Which explained to me why it seemed like the bohri bazaar of wanna be's inside the event space. Lets not also forget that although the ramp is precious and should not be walked on, people do need a reasonably wide space to exit from, bumping into socialites with no idea of deodorant isn't everyone cup of tea. Thank god the fashion community is so willing to rub shoulders with everyone or we could have had quite a few altercations around the ramp area.
All in all it was a very lively event which generated a lot of good feeling and positive coverage for Pakistan. That is why such initiatives must be supported, for the overall bigger picture! However with the incoming fashion week in Islamabad and what not, we are running a tad bit into the overkill area. How many fashion events can one have in the year? Shouldn't there be some kind of standard to adhere to? Can anyone stitch together a few suits play patriotic music and try to cash in the greatest man in this countries history without an outcry? Can we have the same models display different collections night after night without any emotion?
These are some of the questions that need to be answered by not just those organizing but the people clapping to all this seated in front row. Till the next time  then fashionita, socialite or whoever you are reading this. May the ramp be with you.