Its seriously hard catching morning flights, especially for a geek who sleeps or nods off rather at his laptop by around 3 am. So it was on the day of my travel to Abudhabi and Dubai. The flight was at a hellish 550am and I had to be literally pushed and dragged by the missus out to the road to begin my journey. I got there about one hours and 15 minutes before take off time and stumbled to the Etihad counter with about an hour to spare. Needless to say EY 222 was just about to coast down the runway by the time I got to the gate. However I felt quite in time because surprisingly Etihad's ground crew wasn't in any hurry at all or at least seemed to have a complete grasp on the little things which can make a traveller feel at ease.
With me and the rest of the plane secured we flew off on time towards Abu dhabi, a place I had only heard mention of once or twice in passing reference like tatooine is in a star wars movie. A seemingly insignificant backwater next to its cousin, the Vegas on steroids called Dubai. The flight was full but the service was good, on time neat and speedy just the way I like it, no fussing and quality ensured. Legroom was not bad at all, economy legroom being more than on any carrier I have seen at least & breakfast was hot and in a nice brown bag. Eat if you like take away if you want get it?
We landed in Abudhabi at 7am local time, about five minutes ahead of schedule and I was forced to open my eyes at what awaited me. The backwater image was blown away as soon as I stepped into the main building, terminal three I think they call it but it's about the size of thirty terminals in one. Rows upon rows of gleaming lcd screens line the sides with phone & internet facilities through white spotless hallways. It's frankly like a pretty big scifi movie hanger and everything whirs and purrs into place as you step through it.
Passport control immigration and customs took about a grand total of 12 minutes; did I mention they had about 12 counters running at 7am? My bags were waiting by the side of the carousal as I got to it at my lumbering pace and as soon as I stepped out I made a beeline to the Etihad counter for the limo ride to Dubai. Happily enough sami sahab from KPK was in control of things at the fast limo center and before I could work myself through half a cigarette I was on my way enclosed in soft leather and an air conditioner which I thought must have been implanted from a cryogenic facility with its strength frosting all windows.
I arrived in Dubai in an hour and found it an empty shell of the boom town I had visited last year. Flags of bankruptcy line the roads in the shape of half finished skyscrapers and tolet signs hanging from one too many apartment buildings with no tenants. However the heart of the city with its gleaming resilience still remains, the malls are still chock full of people although they seem to be more of the Russian than western descent and it seems to say to the traveller that its down but not out, not yet anyways.
The hum of activity that I spoke of on my last visit here though is dulled, but it can be felt in its twin Abudhabi like anything, its buzzing with promise and here is why I think so. You see if Dubai was the Kohinoor of this region then Abu dhabi is the taj that it was set in. It's not more money less brains like Dubai there but solid financial strength and power.  That and a subtle elegance. Abu dhabi to me is like the person who knows how much they are worth but does not have to show it. So after my work in Dubai was done I took a little tour of it in the afternoon and must point out that the sheikh zayed mosque and the yas marina grand prix circuit are far more interesting sites than the other more showy attractions of Ferrari world or the gigantic malls in Dubai.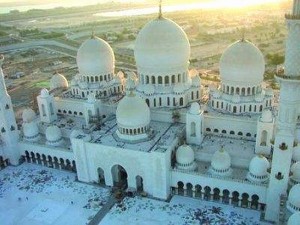 Why would I recommend going to the grand mosque? Well if you are even slightly fond of aesthetics you will be blown away. If not from the 82 moroccon style white domes from an Arabian nights fairy tale then from the sheer magnificence in display inside. In the largest chandelier in the world the most exquisite and advanced lighting system and get this more than 1000 marble columns inlaid with precious metals and calligraphy like you would not believe.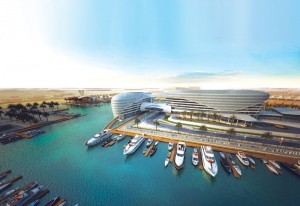 That's not enough for you in a day? Then head over to yas marina where you can if you plan in advance rent an Aston martin to drive around the track and for 120 dhms get a grand tour of what it feels like to sit in the pits or be driven around the track (in a tourist bus) its not a bad price to pay for that Schumacher feeling I tell you!
Needless to say I didn't plan ahead, but I certainly did plan to do so on my flight back to Karachi. Which by the way I got upgraded to business class in and slept all the way through because my seat turned into a bed at the press of a button! Oh that and I had wifi throughout the flight….heaaaaven!!! Though I did wake up In the last five minutes as we were about to land and asked the steward to get me a pin to open my iphone up with in order to slide my trusty warid sim inside. Yes I asked for a pin in this day and age during landing and the steward took off his wings from the front shirt pocket turned it around and said there you go sir. That's Etihad for you, rules matter but customers matter more and that is why I am not going to be travelling by any other carrier anytime soon.
___________________
sheikh zayed & pearl class pictures provided by Etihad, Yas marina picture from daily telegraph