People normally associate and think of Lahore as the city of food. Although this is true in many respects considering Lahore's famous gawal mandi and other such areas of street food, ever city in the world has its unique characteristics when it comes to eating out and Karachiites and their beloved city are no strangers to delicious outdoor consumption either.
There are off course lots of restaurants and fast food joints in Karachi as per any urban location of this size but what this city is best known for are its dhabas. First of let me define dhaba to my readers, it is basically an unconventional restaurant or a stall or eatery based on the roadside. That is the customers sit outside and eat on the sidewalk. The fare is mouth watering and the prices reasonable although more often than not these dhabas are not exactly healthy eating being out and out grease pits. The citizens of Karachi though love the diversified fare they serve and this is why on any night in this city you can find people chomping till the wee hours of the morning, the non availability of electricity only adding to this grand feast.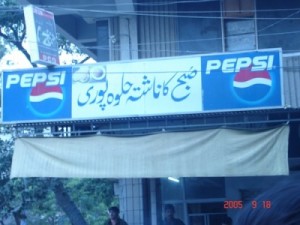 Let us start off with breakfast and the mouth watering halwa puri we enjoy in Karachi, this is the traditionally favorite artery clogger here and there are many locations one can enjoy this in The best three on my list would be opposite Tooso in bahadurabad, famous for opening at 5am and serving red hot and karak puris till 2pm, the old town fave near firpo on burns road and the boat basin one in Clifton, which does its best to measure up to the discerning puri inhalers of this city. The other option off course are the chai/parathas served by many pakthun dhabbas which are well known for the many layered parathas they make and usually account for both breakfast and lunch at one go. Most famous in this category would be Café Clifton in the seaside area, Bhatkal hotel in old town meethadar and my favorite the dhaba behind café sindh maddrasstul Islam with no name and the puffiest parathas on this planet with a cup of tea which would kill a diabetic in 5 seconds.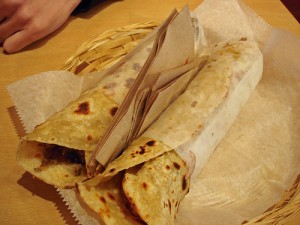 After this mammoth consumption at the days start, no normal stomach should growl till dinner time but then we are talking about Karachiites and we usually still head to places like Students for the mandatory lunch time biryani found all over in many branches or to many other cafes like Kaisers (mutton leg specialist since 1968) or Hanifia for a heart stopping plate of hunter beef or even to the closest thaila.  These thaila dhabbas are just food stalls on 4 wheels and they serve delights from haleem in Sindhi muslim society to a plate of brilliant dal chawal in the old cloth market and many many varieties of biryani for the hungry denizens. These would perhaps be the dirtiest on the food chain of dhabas but they are still favored by most people due to their cheap prices. In fact as far as I am concerned a plate of dal chawal is always welcome over a hi fi dinner any day, call it a stomach for the masses if you will.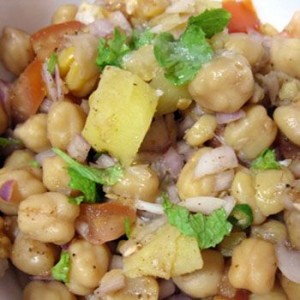 Tea time brings the need for a little chat, mixture of alu chola snacks and other such spicy thrills. To me the best chat house in this city is found on four wheels in Delhi Mercantile Society and it serves up the meanest "meethi puri" in Karachi. It also has a remarkable dish called "Kuliyan" which literally are potato shots and not very different in reaction to them phoren shots either, slices of potato filled with cholas and a sauce to blow your head off, mercifully this dhaba sells bottled water and fizzy drinks as well. Other notables are Ice cool chat at new town and chatkharey and gazebo in the posh Clifton area. The oldest is the dil pasand chat house on bahudurabad and moosa chat thaila in kharadar though which has been serving chat in all its different varieties since the last 50 years.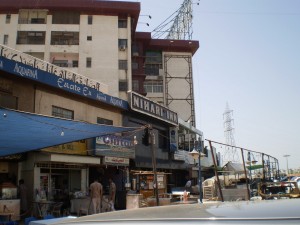 The grandest meal of the day is still to come though and most dhabas in Karachi do roaring business till at least 2am everyday due to our non stop desire for night time food. Notables among these are the "super high way dhabas" found on the outskirts of the city like Al Habib and Mecca hotel for the best chicken karhai and sajji as well as other roasted and minced carnivorous delights this side of the swat valley, decidedly mountainous in influence and with sometimes just salt added to the meat for consumption, more karhai specialists exist in the form of Afridi opposite the casino and near any truck stop around Karachi.. Inner city night time influential's include Silver spoon (the grand master of all kebab rolls and sev puri) in the Tariq road area to Bundu khan who has been serving tikkas and botis since Pakistan's inception on the roadside. For seafood one has to go no further than the fried fish stalls on Jamshed road to the mashallah café at the port on keamari where the catch of the day is available for consumption till morning. Our special Karachi cuisine of nihari is also heavily consumed as both Zahid and Jawaid the two most famous nihari spots of Karachi and the old time Sabri burn many a taste bud till late all over the city here. To me though the biggest  and baddest dhaba would be "Bakara hotel" in old town Kharader which has it all under one roof  but the most populated dhaba spot for the night is none other than the long strip @ boat basin where amongst many many eateries with seating on takhths and chairs outside, one can also find this scribe at his slouch out "Karachi snacks" every Thursday night enjoying dinner and rowdy company.
Obviously most of these dhabas have been frequented by me in my 34 year existence here but there are many more dotting the various dusty lanes of this metropolis ready to serve you a fulfilling treat at any time of the day and night. Perhaps the city government should bring all of them in one single directory or a private enterprise can take this initiative as eating at restaurants here is not even 1/3rd of the experience one can have on the street. In short if Punjab is symbolized by limu pani we have our "limca"(limu pani with fizz and salt) So here is a big burp to the great dhabas of Karachi and the food they cook, preferably with the popping of your particular karmina, pepto bismal or eno stomach acidity reducer for the chance of any sleep later.
As published in the friday times on the 24th of July 2008