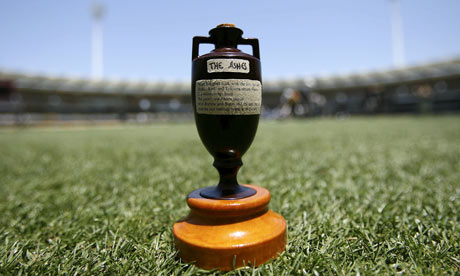 The ashes series between England and Australia perhaps represents the oldest rivalry in the game, not the fiercest though as that would be Pakistan and India but then we seldom believe in playing the puritanical version of cricket any longer.
Test cricket is off course the authentic and most original form of this game and these two nations really rise to the occasion to put their best game on display for the urn pictured above. Silly trophy one would think for such a huge hype, but that's the very concept of the Ashes, what is at stake here is not a match or a trophy but rather the pride, tradition and honor of the two nations playing.
Few in England will forget the masterful bowling of Harmison in the 2005 Ashes when he hit Punter on his chin first up, England meant business then and I am sure no one can forget Harmys first ball in the last ashes to third slip either. Between those two deliveries to me lies the difference in the English teams playing those last two tournaments. Where England were sublime in 2005 they looked a shadow of themselves in the last debacle down under, an ashes they lost 5-0 and were utterly humiliated in.
However this is 2009 and the England team are once again resurgent on the backs of a young bowling attack in Broad, Onions and Anderson as well as a tweak or two from Swann, Flintoff and Harmy still around as well but misfiring from the mouth and hand. Australia on the other hand have suffered much as they have shed all their legends and lately seem a bit overwhelmed and exposed. Ok so Hughes in the opening slot may make up for the missing Hayden and Johnson may just emerge as the next Mcgrath but who in gods name can replace Warnie? No one! So right now as far as pundits go everyone is favoring England as their batting line is beefed with Bopara, KP, Collingwood, and Strauss in the order  and their young bowlers seem top notch but does England have the mental capacity anymore?
Consider this, the man captaining England right now was left out of the last ashes tour altogether, Strauss never went down under and a few of his fans , me included were appalled by that decision. So this is how much England has changed from last time, and although I think they have a lot of talent its not going to be easy to come to grips with the pressure that they will face in the Ashes. Vaughn just bit the bullet and retired, so this is the chance for Strauss to come big, prove his mettle and stay on as permanent captain of team England. No shadows on his back now, its game time.
I think the series will be decided by the early exchanges on day 1 in cardiff. If England can hit the ground running then Australia will find it very very hard to claw back without the geniuses they had at their disposal last time. However if England try to start slow and build up momentum as the series goes on, I would pick an Australian cricketer over an English one in a pressure cooker situation any day. That kind of slow down to the wire strategy will in my opinion benefit Australia.
To me therefore England needs to go out there in Cardiff and literally destroy, bury and then stamp on the Aussie team first up. Australia's cricket grave must be built and filled in Cardiff or it might be a tough and good series to watch but the urn shall go back rather than stay.
Good luck to both teams & their fans!!!
Players to watch, these are to me the difference makers, the rest will perform as well obviously but I expect the following to make this series their own.
Aus
Hussey – AÂ  lucky century and a sudden return of form…need I say more?
Hughes – Hailed as the new messiah, i expect him to come through with flying colors
Lee – Thought off as past his prime, the reverse seems to be on target and he will be counted.
Eng
Kp – Definitely Englands biggest big game player, i expect him to do something magical twice!!
Onions – Easiest pick of the England fast bowlers for me he will definately cause dents in Aus.
Bopara – I expect him to play a few very dangerous cameos in the lineup, Aus better watch out for his firepower.