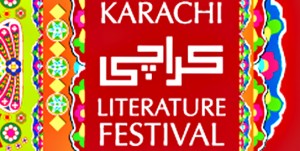 Three years old, the Karachi literary festival at least by its lineup seems to have come of age finally. I was there last year and although there was much local talent present the international big name flair seemed to have given the festival a miss as many invited Indian authors could not get visas on time.This does not by any means indicate that international authors "have to be there" at the festival to make it a success. It was a success last time as well but unfortunately to make it register on an international level in mainstream and social media the presence of international stars makes all the difference.
Why do I mention social media here? Well its because increasingly literature festivals have become interactive  forums between authors and their readers and nothing emulates interaction more than social media. Naturally people who attend this time are far far more media savvy than last time and some of them have followings of 10,000 or more on social media platforms thus their voices and discussion will resonate at this forum.
A cursory look at the lineup shows us  Vikram Seth, Hanif Kureishi, Shobha De, William Dalrymple, Anatol Lieven among the people visiting from other shores and Mohammed Hanif, Kamila Shamsie, H.M. Naqvi and Maniza Naqvi amongst the local talent on showcase. Quite a mouth watering lineup for any reader I might add! However if you havent read the books of any of the visiting authors let me clue you in on some of their prowess.
William Dalrymple is the author of seven acclaimed works of history and travel, including City of Djinns, which won the Young British Writer of the Year Prize and the Thomas Cook Travel Book Award; the best-selling From the Holy Mountain; The Age of Kali, which won the French Prix D'Astrolable; White Mughals, which won Britain's most prestigious history prize, the Wolfson, and The Last Mughal, which won the Duff Cooper Memorial Prize and The Crossword Prize for Non Fiction. He divides his time between New Delhi and London and is a contributor to The New York Review of Books, The New Yorker, The New Statesman and The Guardian.
His sessions at the KLF [all on Day ONE]
1.  Keynote Speaker at the inauguration  (what will kick-start it all)
Time: 10:00 am to 11:00 am
Venue: Main Garden (open space)
2. Â INDUS JOURNEYS: In Conversation with William Dalrymple
Moderator: Kamila Shamsie
Time: 3:00p.m. to 4:00 p.m.
Venue: Main Garden
3. Â Afghanistan & Pakistan: Conflict, Extremism & the Taliban
 Ahmed Rashid, William Dalrymple, Mushahid Hussain Sayed, Navid Kermani
Moderator: Rasul Bakhsh Rais
Time: 5:00 p.m. to 6:00 p.m.
Venue: Ballroom
Hanif Kureishi is the author of numerous novels, short story collections, screenplays and plays. In 1984 he wrote My Beautiful Laundrette, which received an Oscar nomination for Best Screenplay. His second film, Sammy and Rosie Get Laid, was followed by London Kills Me, which he also directed. The Buddha of Suburbia won the Whitbread Prize for Best First Novel in 1990 and was made into a four-part drama series by the BBC. Intimacy, his third novel, was published in 1998, and was adapted for film in 2001. His work has been translated into 36 languages. He has been awarded the Chevalier de l'Ordre des Arts des Lettres and a CBE for services to literature. In 2008 The Times listed him as one of 'The 50 Greatest British Writers since 1945' and in 2010 he was awarded the PEN/PINTER prize. Hanif Kureishi lives in London with his wife and children.
His sessions at the KLF
DAY ONE
1. In Conversation with Hanif Kureishi
Moderator: Muneeza Shamsie
Time: 12:00 noon to 1:00 pm
Venue: Main Garden
DAY TWO
1. Â LITERARY CRITICISM
Muneeza Shamsie, Hanif Kureishi, Aamer Hussein, Alok Bhalla, Stefan Weidner
Moderator: Maniza Naqvi
Time: 10:00 to 11:00 a.m.
Venue: Maharaja
2. Â Reading by Hanif Kureishi (extremely important)
Time: 7:00 p.m. – 7:30 p.m.
Venue: Beach View Garden
Anatol Lieven is a professor in the War Studies Department at King's College London., and a senior fellow of the New America Foundation in Washington DC. His areas of expertise include US strategy and political culture; Islamist terrorism and insurgency; contemporary warfare; the countries of the former Soviet Union; and the Greater Middle East, especially Pakistan, Afghanistan and Iran.  His latest book, Pakistan: A Hard Country was published in 2011-2012 by Penguin in the UK, Public Affairs in the USA and Oxford University Press in Pakistan. It is based on his time as a journalist in Pakistan in the late 1980s and extensive research on the ground in recent years.
His sessions at the KLF:
DAY ONE
1. Â In conversation with Anatol Lieven
Moderator: Ayesha Siddiqa
Time: 2:00 p.m. – 3:00 p.m.
Venue: Ballroom
2.  Today's Pakistan: An economic and political perspective
Asad Sayeed, Ishrat Husain, Anatol Lieven, Maleeha Lodhi
Moderator: Ghazi Salahuddin
Venue: Maharaja
Time: 4:00p.m. – 5:00 p.m.
DAY TWO
3. Eyewitnesses and Observers: Writing about Pakistan from a Foreign Perspective
Manu Joseph, Declan Walsh, Anatol Lieven, John Krich, Kishore Bhimani , Hartosh Bal Singh, Alok Bhalla, Navid Kermani, Daniel Lak
Moderator: Raza Rumi
Venue: Maharaja
Time: 3:00 p.m. – 4:00 p.m.
Off course there are many more offerings at this grand buffet of literature, and some of the best will be found in the halls where budding wordsmiths and bloggers will be gathered around writers of such repute like moths to a flame.  The above were just my version of what constitutes the "must attend" parts!
By chance if you see someone soaking up the atmosphere hunched over a smart phone, that will probably be me 🙂 See you there!!